Old fashioned bedside tables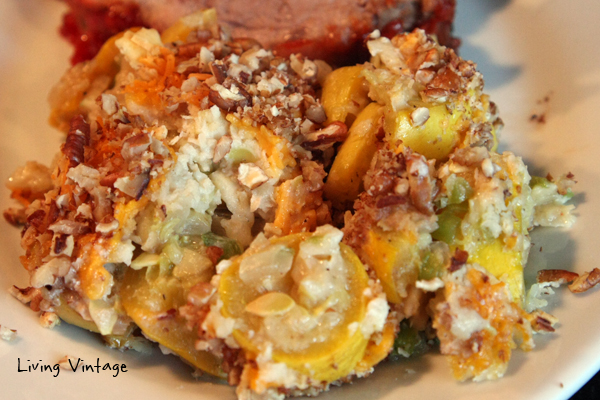 Yellow squash is one of my favorite vegetables. I stop short of dancing a jig when spring and summer arrive and I can buy fresh organic veggies at our farmer's market.
We enjoy squash that's been pan sauteed, grilled, oven baked, and fried, and I'm always on the lookout for more creative ways to prepare it.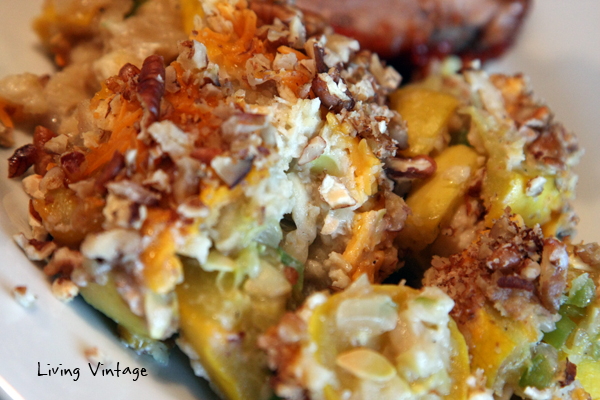 I made this recipe for Mark shortly after we met. He raved about it and it's been on our "keeper" list for a long time. I've adapted this recipe a bit over time to suit our taste.
Enjoy!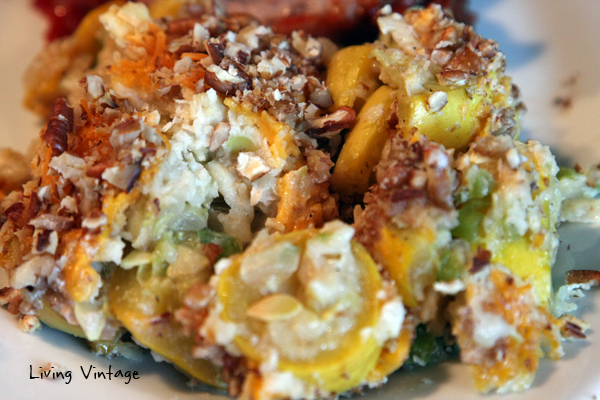 INGREDIENTS:
1 large onion, coarsely chopped 4 tbsp butter 2 lbs yellow squash, coarsely chopped (Equates to about 5-7 medium squash) 1 tsp salt 1/8 tsp cayenne pepper 1/4 tsp black pepper 1/3 cup green bell pepper, chopped 1 cup saltine crackers, crumbled (I use Zesta saltines, but any saltine cracker will do.) 1/2 teaspoon salt (optional) 1/2 cup half and half 1 cup cheddar cheese, shredded 1/2 cup pecans, finely chopped PREPARATION: Preheat oven to 350 degrees. Melt 1 tablespoon of butter and butter a 1 1/2-quart baking dish. Melt the remaining 3 tablespoons of butter and sauté the onion in the butter in a large saucepan over low heat until the onion is tender. Add the squash, salt, cayenne pepper and black pepper. Cook over low heat as the squash releases its moisture. Add about ¼ cup of water if necessary. Cover and cook for 10 minutes or until squash is fork tender, stirring as often as needed to prevent scorching. Stir half the crumbled crackers and the bell pepper into the squash. I use Zesta saltine crackers which tend to be a little saltier than others, so I don't add any extra salt to the dish. If you use another brand, you may want to add a tad more salt – squash can be very bland if it's not seasoned well. It just depends on how much salt you like to eat. Spoon the cooked squash mixture into the baking dish. Pour the half-and-half over the squash mixture and sprinkle with the remaining crackers, cheese and pecans. Bake for 20 minutes or until the half-and-half is absorbed, the squash is bubbly and the cheese is melted. Let stand for 5 minutes, then serve hot.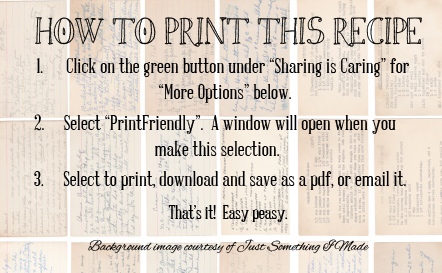 Old-Fashioned Southern Squash Casserole - Living
Nightstands and Bedside Tables - Furniture You'll Love
Antique Reproductions Handcrafted Furniture Laurel Crown
Antique End Tables - Inessa Stewart's Antiques
Old World Bedroom Furniture - Accents of Salado
M: Battery Lights, Remote Control Bedside